why thank you cynthia rowley!
Please ignore the wrinkles.
File this under "COMPLETED"!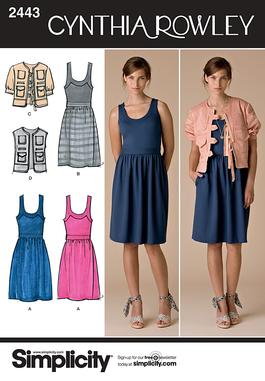 *cue fanfare*
I'm loving this dress for two reasons:
it cinches the waist very nicely although it can get a little clautrophobic, not the patterns fault, sit-ups are in order.

STRIPES!
I originally bought this pattern for the simplicity of the design and, I assumed, construction. Not impossibly difficult, the curves were a b**** to sew, and had some issues with the zipper. Installing the zippers (cause I did it more than once) was more difficult than it should have been, albeit trying to recycle a used zipper probably wasn't the best idea.
There wasn't very many pattern pieces to deal with, which was great! After having "my" Brother XR-65 for a couple of years, figured out the blind hem stitch for the dress hem, so proud!
The fabric is a linen-type fabric with some stretch. I prewashed and hung out to dry which might have been a mistake as it got pretty crispy with wrinkles that don't easily iron out.
I'd say pretty successful. I'm happy with it and plan on sewing a couple more for the summer. Cynthia Rowley has some pretty nice patterns out right now, just purchased two more, one of which i started last night!